Shamsia Hassani, 24, is a graffiti artist in Afghanistan. In fact, she's the county's first female graffiti artist.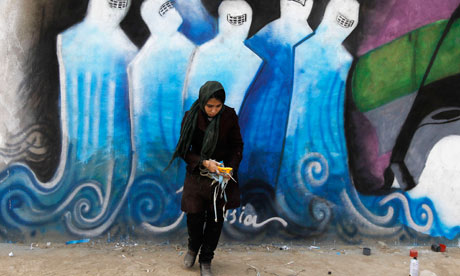 Hassani's introduction to graffiti came in 2010, when British artist Chu visited Afghanistan to hold a week-long course in street art. She embraced the art form, believing it to have more of an impact than traditional art.
Her main inspiration is highlighting the injustices against women; in one of her works, six women in blue burqas appear to have become ghosts as a result of there treatment by society. This blue burqas are a recurring feature in Hassani's work. The colour is a symbol of freedom.
She's also an associate professor of sculpture at Kabul University and a founding member of an art collective called ROSHD (or "growth"). Due to the risks involved, Hassani is currently the only woman in the group, although there were women when the group started.
As well as the street-harassment faced daily by women in Afghanistan, the government also has a zero-tolerance policy towards graffiti artists.
Graffiti is seen by many locals as being "un-Islamic", with artists like Hassani being too influenced by Western culture. For these reasons, Hassani's work is restricted to abandoned or unused buildings as opposed to the large, blank walls that exist in more public areas.
You can find out more about Hassani and see more of her artwork on her Facebook page.