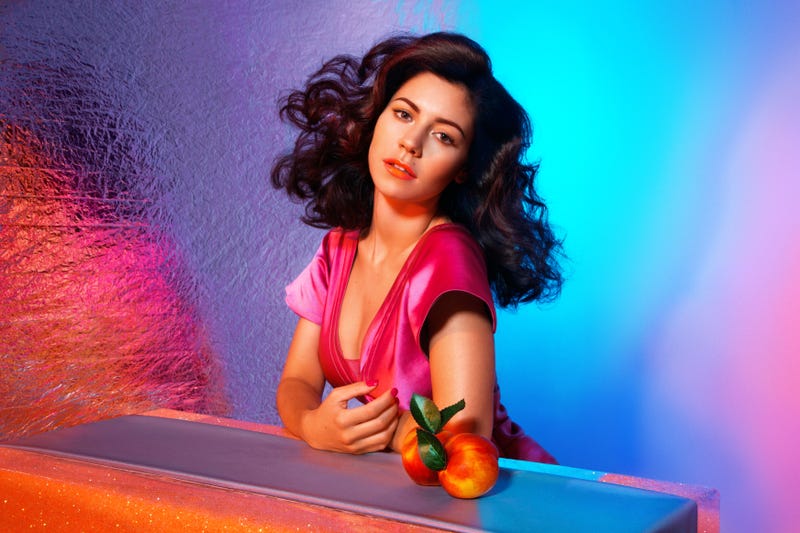 This week, Marina and The Diamonds played at Newcastle Academy as part of her current Neon Nature Tour. The concept of "Neon Nature" is of artificial earthiness (plastic fruit, plastic trees etc), and this was largely reflected in the images projected onto the back of the stage. Despite being in a smaller venue, it felt very much like an arena show.
The set was split into three "acts", one for each album, and the format worked really well. I especially liked this idea as, despite having been a fan of Marina since quite early on in her career, this was the first time I'd been able to see her live, so I was happy to be able to hear some of my favourites from each album.
For the first act,
The Family Jewels
, the stage was lit up in green and purple, as Marina opened with "Mowgli's Road", a strong track that set the energy for the night.
As well as performing the album's other singles, "Hollywood" and "Oh No!", Marina sat at her keyboard to perform one of her earliest songs, "Obsessions", with vintage Betty Boop cartoons playing behind her, allowing her to really showcase her vocals, before transitioning into Act Two,
Electra Heart
.
Returning to the stage in a bright pink catsuit, she went straight into the album's opener "Bubblegum Bitch". "How To Be A Heartbreaker" and "Primadonna" had the whole room singing along, while "Lies" ended the era on a powerful note.
For the final act,
Froot
, Marina came out in a blue, sparkly outfit. By now, the excitement in the room had reached its highest level. Marina showed off her vocal talent again as she ends the show with "Immortal". That is, before re-emerging after a couple of minutes to perform a two song encore, "Happy" and "Blue".
With a final bow, Marina and her band exited the stage and the neon lights went out.
I'd be surprised if anyone walked away from this gig feeling disappointed. The idea to split up the set into three acts worked out perfectly, the energy of the crowd building up at the beginning of each one.