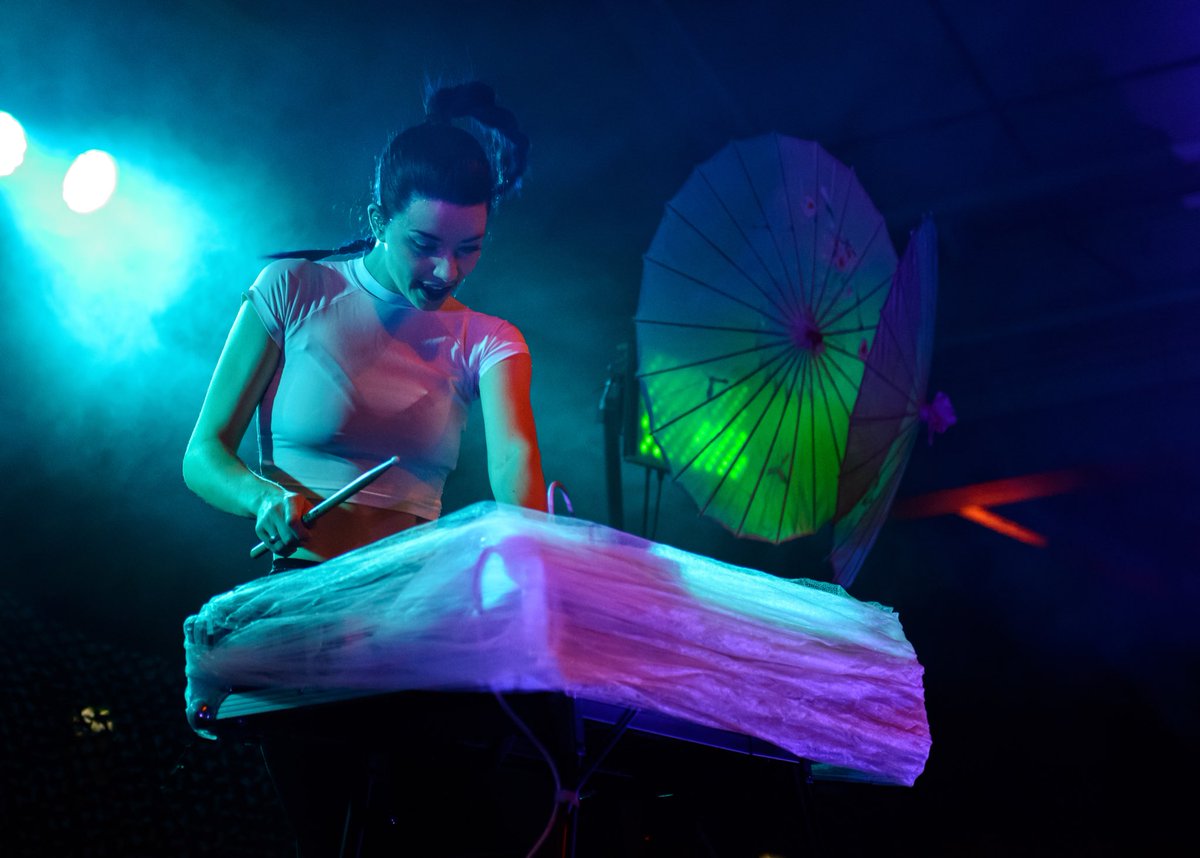 taken from HANA's tumblr
HANA is the opening act on Grimes' current
Acid Reign
tour and, as she takes to the stage of the already packed Academy, it quickly becomes clear that she's a perfect choice to fill that slot. While HANA's music is certainly in the same vein as Grimes', she's managed to take a similar set-up and make it very much her own. Thick beats and dreamy synths provide a beautiful backdrop for HANA's impressive vocals and unwavering confidence; she ends her set having definitely made an impact on the majority of the crowd.
taken from Grimes' Facebook page
After the ever-agonising wait that comes after the support act leaves the stage,
Art Angel
's atmospheric opener
Laughing and Not Being Normal
starts to play, and the crowd start screaming at full volume before Grimes has even set foot on stage - so you can imagine the reaction as she walked on and started playing
Genesis
, shouting the opening line along with her at top volume.
Backed by two dancers, Alison and Linda, Grimes is also joined by HANA who, depending on the song, contributes drums, guitar, backing vocals and/or just general awesome sparkliness.
Before going into
Scream
, Grimes explained that, unlike the tracks featured vocalist Aristophanes, she can't speak Mandarin, before going on to rap the verses herself in Russian. Her vocals switch from random metal-esque growls to soaring, high notes that, from a lesser vocalist, could easily have got lost in the complex mix of sounds.
Venus Fly
was particularly electrifying to hear live, its booming bass line backed by laser fingers and strobe lighting.
Grimes' confidence in performing is in stark contrast to the nervous energy she exudes between songs, looking both grateful for and visibly uncomfortable of the cheers and applause she receives all night (which, of course, only makes people want to cheer for her more!).
Kill V Maim
ends the night in a sublime mix of pounding beats, lasers and some of the best pop music you're ever likely to hear. The whole set was like a weekend trip to a magical-neon-fairy-city, and over much too fast, and proved that Grimes is one of the most exciting performers around at the moment.